Airprint For Windows-How To Install & Use Windows 10/8/7/Mac
Last updated on November 18th, 2022 at 07:10 pm
Airprint is a feature that allows an iPhone user to print wirelessly to an AirPrint-enabled printer. So an Apple user can publish anything without the help of a printer. Unfortunately, every printer can't support Airprint. But still, you can do this in some tricky way.
You can install Airprint on your windows and share the printer with Apple devices. Here I will show you how you install Airprint for Windows.
About Airprint
Airprint creates full-quality printed output without the help of drivers. You can print full-quality pictures and documents from the Mac, iPhone, iPod and iPad. The Airprint technology has some awesome features like automatic media selection, discovery, and enterprise-class finishing options.
AirPrint Features:
Airprint has a powerful technology that helps to print anything easily with apple devices.
It is a very friendly application.
It can connect with multiple printers.
Why would you need AirPrint service on Windows 10?
Sometimes it is essential to print some files using windows and apple devices together. Airprint works well in that case. You can print anything wirelessly if you have AirPrint. Air print will help you to print anything from your Ipad or iPhone.
See More: Free Download AirDrop For PC
Steps to Download and Install AirPrint for Windows 10, 8 or 7
The download and installation process of AirPrint for windows 10, 8 or 7 is so easy.
First of all, open a browser. Then you must use the search bar and search for AirPrint download for windows 10. Then go to the first link and find the download links. You will find an executable file download link, and you have to download it. Then double click on it to launch its setup menu. If you follow their guidance, you will be able to install the app properly. You will also need to download some components for the Airprint service to work. You will also have to visit the Bonjour print service website and download them. They will enable some dependencies, which helps AirPrint to work smoothly.
How do I set up AirPrint on windows 10?
To setup Air Print on windows 10 correctly, you have to follow these steps: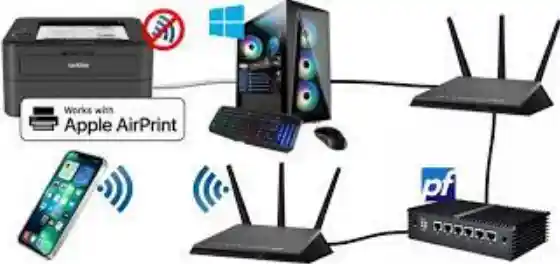 At first, Share a printer connected to your PC. You can do that by going to the Printers and Faxes option and then Printers, and other hardware => Control Panel => Sharing => Select your printer on XP operating Systems. But if you use Windows 7/8/10, then follow these steps. Go to Control Panel è Network and Internet è Network and Sharing Center è Printer Sharing è Click on 'turn on printer sharing,' available from the start menu. Now go to Printer Properties è Sharing è Share this printer.
Now you need to create a folder named Airprint and put this folder in C:\ Program Files (x86). Then Download Airprint.zip, which is available on Mediafire, and unzip it into the folder you have just created.
Now open Command Promt. Copy and paste it to cmd "exe create AirPrint binPath= "C:\ Program Files (x86)\AirPrint\airprint.exe -s" depend= "Bonjour Service" start= auto".
After that, paste this command "sc.exe start AirPrint."
Windows will ask you to give them access to your system. So, click on allow access.
Finally, you can now use Airprint.
How to print using Apple AirPrint?
You have to follow these steps: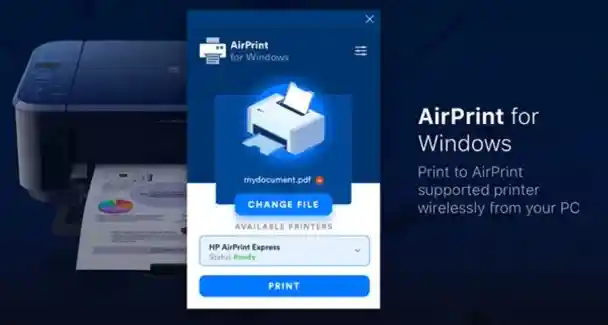 Find the app that you want to use for printing.
After going to the app, select the sharing button and click on the print.
Now scroll down and tap select printer option.
You have to select an air print-supported printer.
Choose the files you want to print.
Finally, press the print button to start printing.
How to print from an iPhone using AirPrint?
There are 2 ways to print from your iPhone. Today we will be sharing the method of using air print to print anything. Follow these steps to do so:

Firstly, ensure that you have an AirPrint-supported printer, or it won't work.
Now open an iPhone application that supports air print.
Select the files or photos that you want to print.
Now click on the share button.
Tap on the print button.
Click on Select a printer and find your printer's name. Then click on it to select it.
Finally, click on print, and you will be able to print your files.
How to print from iPhone directly using a non-AirPrint compatible printer?
If you have a non-air print supported printer and you want to print something, then you need to follow these guides:
Turn on your printer and iPhone.
Now plug a USB into the printer and the other part into your iPhone.
If you successfully did this, a pop-up will appear on your iPhone.
Click Ok, go to documents, and select the files you want to print.
Now click on the share button, and many types of sharing platforms will appear. Select the print option from there.
Now click on print, and it will start printing your documents.
How to AirPrint from iPhone to brother printer?
Follow these steps to air print anything from iPhone to a brother printer.
At first, have to set up a brother printer and IOS device with the same network.
Select the files you want to print.
Click on share and click on print.
Finally, it will start printing your documents.
Frequently Asked Questions
What port does AirPrint use?
Airprint uses port 19631.
Is my canon printer AirPrint compatible?
Yes, your Canon printer is compatible with air print, and you can use air print on it.
Can I AirPrint to my Epson printer?
Some Epson printers support air print, but some of them also don't support air printing. You can view the whole list on the official website of apple's air print.
Is AirPrint wifi or Bluetooth?
Air print is basically for WIFI. The printer and your IOS device should be connected to the same network to use air print.
Final Thought
Airprint for windows makes printing convenient and enjoyable for windows users, and it also saves time. You can run the printer if you have a wifi connection and if both devices are connected to the wifi connection. So if you are an Apple device user, you can use Airprint for wireless printing.