How To Use WeChat on Mac/Windows/Android/iPhone In 2022
Last updated on November 19th, 2022 at 12:59 am
Having a conversation with people, spending time with them is the most normal thing every people do. People love to talk with each other, share thoughts and listen to their daily activities. You can't find all your loved ones in one place; some live near and some far away. Messaging through the app is now very common these days; apps like messenger, Viber, WhatsApp, Wechat, telegram, etc. are reaching people far more than we can imagine. Among most messaging app, everyone has a question of how to install wechat on their PC or laptop because you don't carry your phone everywhere. Today we will talk about how to use wechat on mac and windows.
Due to the gradual growth in the telecommunication industry, apps like wechat have reached everyone. It's annoying to use a single phone and PC at the same. When you are in your office and want to send some files or read some files, you don't have the apps that are compatible with those documents, so you need to transfer your files through your laptop or PC, this is where the use of wechat or any other messaging app in your PC or laptop comes in handy. In this article, we will show you how to install wechat on mac and windows.
What is wechat app?
Wechat is an instant messaging application developed by the Chinese tech giant Tencent in 2011. With over 1 billion active users, wechat stands as the most popular and largest messenger app globally.
Besides texting, sending voice SMS, video, and audio calls, wechat acts as a platform where acts like paying bills, purchasing goods and services, sending money to your desired contacts; all these things can be done with the help of a single app.
Being popular worldwide, wechat is vastly used by those people living in Asia and China. As this is one of the most convenient apps to use in your daily life, everyone wishes to install it on their mac and windows.
Wechat is compatible with Windows, Mac, Java, Symbian, Android, iOS, and you can also use it online. In this article, you will know about how to use wechat on mac and windows.
Why should we use Wechat?
Coloured stickers on chat:
You can easily use both stickers and emoticons free of cost while chatting. Wechat made this possible by combining both the features of Line and Whatsapp.
Live chat:
You can have a live voice chat or group conversation; it's like having a walkie-talkie. It's fun and more convenient at the same time. But remember, only one person can speak while the green indicator light is on.
Video call:
Toggling between video and audio can be made during a video call. You can have face-to-face conversations with your loved ones while having video call mode.
Meet new people online:
This is an exciting feature, "shake" feature helps to find new people around you with the shake of your phone. After the list number is shown, you can contact them through messages and have a wonderful conversation.
Wechat on your laptop or computer:
Looking down a small screen at your phone can be painful. You can use the Wechat app on your computer and laptop easily through the installation of the app. You can also use it online through your web browser.
Share Moments:
It's like the same feature as Facebook, but it has more empathy on pictures that are shared. You can use the share "Moments" on wechat very easily and conveniently.
Photo editing:
It is an in-built photo editing feature that allows you to edit, add filters to your profile picture, and publish it on social media networks and wechat simultaneously.
How to use wechat on mac?
Firstly, you have to download the latest version of wechat from www.wechat.com and install it on your MacBook.
Secondly, Log in to wechat from your MacBook and confirm the login from your mobile as required. No user can log in to wechat from mac without getting logged in to your smartphone.
Thirdly, scan the QR code with the following steps :
Open wechat on your mobile, select "+ " from the top right corner, then scan to confirm your login.
Fourthly select switch accounts from the login page of your mac to change to another account, then open Wechat on your smartphone, select " +" from the top right corner and then scan to log in to wechat.
But remember, you can't log into the same account from wechat web and wechat from Mac simultaneously.
How to use wechat on Windows?
Firstly download wechat for windows from this link: www.wechat.com.
Secondly, run wechat on your pc or laptop, and you will see a QR code. After that, run the wechat app on your mobile phone, sign in to your wechat account and scan the QR code with the help of your phone's camera. After scanning the QR code, it will automatically sign in to your account in the wechat windows version.
Thirdly, another way is available to use wechat on your windows by going into this website: web.wechat.com. You have to scan the QR code again using your smartphone.
How to use Wechat on Android?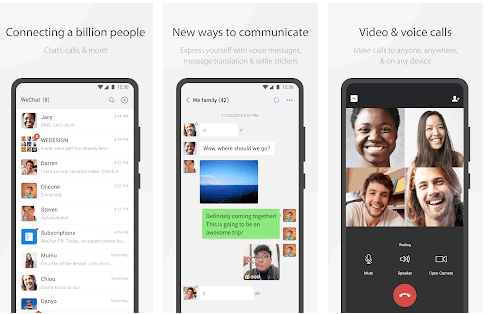 Downloading wechat for Android is very easy and straightforward.
Firstly, visit your phones' play store to download the app. After a few seconds, the installation will be completed.
Secondly, we have to make an account, launch the app and select the "Sign Up" button and simply follow the instructions that pop up on your android phone. The sign-up process will be completed after giving your name, country, address, and desired password. You have to give your phone number to get the verification code needed to complete the process.
The whole sign-up process is very straightforward, and every information will be given correctly, and the other ones are known to you.
Thirdly, the work is not done yet, and it's time to make friends online. As you have added friends on Facebook, adding friends on Wechat is similar to Facebook. Select the Contact button situated on the bottom of your screen; after that, select the plus icon from the upper right corner and select "Add Contacts." You can easily search your friends, your business partners, and colleagues by their phone number or Wechat ID; after that, add them to your network by simply pushing the follow button.
There are also more accessible ways to connect with your buddies. You can get connected by simply scanning their QR codes. Select the "Me" option button and get access to your own QR code. Get access from the QR code with the help of a QR reader, which is situated under the "Discover" tab.
The best thing about wechat is that you can get connected with a random stranger with the shake of your phone. You can also search for the people located in your area and get connected if the people are also shaking their phone when you are also shaking.
What helps you to represent yourself with the help of different stickers and emoticons found on the app. If you spend some extra money, you can download more exciting new emojis. There is also an option to challenge your friends toward a game of "Dice" or Rock, paper, scissors." It's a great way to have fun with your friends while chatting and kill your boring time.
How to use wechat on iPhone?
Firstly, open App Store on your iPhone.
Secondly, search for wechat from the search bar.
Thirdly, install wechat on your iPhone.
Finally, open wechat and follow the instruction that pops up on your phone's screen. wechat will be ready to use
It's that simple.
Final Thought
Wechat, for its exciting features, is known to be the "app for everything" among users. Everything can be done through a single app, from chatting to calling friends, having features like "moments," paying bills, and purchasing goods. In this article, we have discussed how to install wechat for mac and windows, but you will also know its exciting features and how you can install it on your android phone and iPhone.
Installing wechat for windows and mac can give you the advantage of working on a bigger screen, sharing files, and connecting with your friends, colleagues, and clients simultaneously. Follow our instructions to use wechat properly.