15 Best Android Emulators For PC (Windows and Mac ) In 2022
Last updated on November 18th, 2022 at 02:47 pm
Getting an android emulator and emulating for your PC would be fun and techy. The fun thing is you can get to see the apps on your big screen and use them with great ease. And, the techy stuff is you really really need that app to run for PC.
Sometimes, using an emulator will give you such access that the phone won't allow you to do so. The most frequent use of an emulator is having fun with the mobile game as an emulator can bring the game into your big screen PC. Later on, some apps would be so important to run at your PC which is next to impossible without an emulator.
For example, you are a social media geek especially using Instagram then the mobile app would be the best thing to surf around. And, to use it right from your pc the emulator would be the only thing to look for.
Already convinced about getting an emulator? Well, today we will bring all the available best emulator for PC to run in our PC through this article so let's jump straight to them.
What is the Android emulator?
An emulator bridge between the computer interfaces to the mobile interface so that the apps will run into the computer operating system. This is why most of us opt for an emulator when they see their desired apps won't run or work on PC. Normally, the emulator runs on your computer using some of the basic functionality.
The emulator creates a mobile-friendly platform in your computer windows 7,8,10 then it feels like the system is running like an Android platform. So, when you download the app it will go straight to the emulator not in your PC operating system. Since the PC operating system won't run it under its system.
Why Uses Emulators on Your PC?
Using emulators is the best option while you want to explore your big screen gaming. Computer performance is ahead of mobile performance indeed and when you play a big game like PUBG or Call of Duty then your computer hardware will help you to run the game faster and better. On the other hand, the emulator will allow you to do some sort of great experience with the keyboard mapping.
On your mobile you will have less scope to control over the game with the minimum buttons whereas, computer gaming allows you to take control over more number of pressing the buttons, as a result, you will be equipped with more buttons to play effectively. Well, so far this is the key reason for that most of the players love to switch mobile to computer. You can download free any android emulator for PC ,laptop and Mac Os.
Top 15  Best Android Emulator reviews 2020
Want to know some of the best android emulators for PC windows 10 out there online for free? Well, then we are going to let you know so let's jump straight to the emulator review here:
1. Android Studio's emulator
When it comes to choosing the emulator then the android studio emulator should be the top pick for you. As it offers with the default console for the Android platform. Moreover, it offers so many tools that help developers to make games and apps to load on your PC. Interestingly, it turns out to be the built-in emulator so it sets well on a computer device and runs smoothly.
But it comes with a con, the setup seems a bit complicated and time-consuming as well. Many emulator users choose it for the first level of experience while testing others too. You can try out the Kotlin when needed as well. For the complicated setup and user experience it would be a hard nut to crack for the regular people but developers never leave it to try. Again, if you are advanced users then this also for you, no matter how tough it seems to the newbie.
Price: Free
2. ARChon
Don't want to download a file and run on your pc and make your PC slow? Yes, more or less many emulators come for the high-performance computer whereas the slowest fail to have it. In that case, the extension emulator just like ARChon would be a great alternative to them. It is a free extension that works great on Chrome so it is easy to turn it on and run some games and apps with limited support.
So, you won't see it running on the background without installing it on Chrome. Over there, you can get the ApKs and run them too. For the final touch of finish, you need to change the order of the APK and make it perfect to run. Keep in mind, in another emulator may turn out with more this and that stuff to run the system, whereas it is quite easy to get your hands on playing a game and running apps.
Price: Free
3. Bliss OS
Bliss is a different story, unlike others. It works on your computer using the virtual output. Don't worry, the system is always on the go for the flat run for pc using the USB stick. As it runs form the stick, so we should let you know the USB stick is a powerful choice that works within a power user option. To run the system on the way, you need to tweak the VM installation, and the system is good to go. However, you may find it tough especially when you never dealt with the virtual machine ever.
Moreover, the USB installation process is more complicated than that but once it is on the go then you are running the real system which is native from the boot. This is why it becomes the unique emulator for you but make sure that your system is worthy to run this. Also, get prepared to have a backup of your content right from your operating system. The whole system will be organized and run by the Android Oreo which is so far the newest pick that is offered on your emulator.
Price: Free / Optional donations
4. Bluestacks
BlueStacks App Player possibly the best well-known emulator in this business. This emulator requires your PC a bit faster to handle its performance and thus you are going to get boosting experience while playing a game or performing the app.
You already know how an ideal emulator works, right? So it works the same way but the difference comes up with the better and sound experience while dealing with hard-core gaming PUBG. In that case, it emulates more randomly and gives you the finest shot to recoil your bullets without missing its performance. Hence, the game lover loves to play the hard-core game within it and they find no lack of bugging or disturbing drawbacks.
Recently, the BlueStacks reached its millions of users, which means the emulator hits the best in this business. The con of this app player is with the slow running behind the screen whenever your PC is poorly made. That means the app player requires some solid configuration as it takes more of your space on PC that is hovering near to 1GB.
Price: Free / $2 per month
Similar Read:Latest BlueStacks App Player for PC – Free Download for Windows/Mac
5.GameLoop
The former Tencent gaming buddy now turns out to be the GameLoop, a superb emulator for the gamers. Interestingly, Tencent used to recommend it as their official emulator for its games and this also applies to Call of Duty. Therefore, Tencent users like the gamers of PUBG Mobile opt for this emulator to run on their PC. However, it features support for other games and apps to some extent as the techy support is not that big as others are used to be. You will get this emulator installation after testing out and then you will experience it nicely.
Price: Free
6. Genymotion
This app would be a perfect choice for the developer's team. Because it allows you to test the application on the versatile devices even though you won't own them. Furthermore, you can set it up for the different variety of platforms of the device allowing the different versions to come. For example, the Nexus one is easy to run with the Android 4.2 or with the Android 6.0 then easily you can switch between the virtual devices as well. It may not turn out to be recommended in regards to the feature available for the desktop and cloud both. Hence, if you don't have the powerful hardware setup on your computer then we recommend you not to try it out.
Price: Free with paid options
7. LDPlayer
LDplayer is a great choice for the game lovers as it comes with so many games oriented features. The keyboard mapping controls support to the many latest games for that many of the gamers opt for it. Again, this one is pretty popular for delivering the monthly updates on a regular basis. And, in every update they are solving new issues like in their latest update they solved the bug problem with call of duty.
Price: Free

8. MEmu
MEmu is a popular emulator as it seamlessly runs the games. The main reason people love to have it is for the greatest support to the Intel chipsets and AMD both. However, it mostly works on the AMD processor. For the game lovers who want to see their PC within AMD processor would love to see such an emulator that will team up with the AMD platform. Also, it supports the Android Version like Jelly Bean, Kit Kat, and Lollipop. This emulator supports multiple platforms like the BlueStacks. The last update it brought on in Nov 2019. This update brought smart keymapping features with the improvements of its update.
Price: Free
9. Nox
Nox app player is another popular choice for emulator enthusiasts. It comes with the features of some key mapping stuff along with your keyboard, like real controller support. Moreover, it has the ability with the key-map gesture controls too. For example, you can command it to swipe left to an arrow key besides, use it while you don't have the real controller support. It is more than fun and works great most of the time. More interestingly, the app you will find completely free with the amazing interface development.
Price: Free
Similar Read:Nox App Player For PC (Windows & Mac)-Free Download
10. Phoenix OS
Phoenix OS is the newest in this business as an android app player for PC. It will boost your gaming experience and give you a different level of gaming on your computer. Interestingly, the emulator allows you to run the game like a PC game. The reality of it will blow your mind. Besides, it comes with the Google Play Services, although the updating of it seems disturbing to you as it takes a lot of time. However, the good thing is it can run the latest releases of games. To get this emulator, we suggest you have a good hardware compatibility and download it from its official websites.
Price: Free
11. PrimeOS
PrimeOS is a great thing to have your computer as an emulator. It's been a tricky thing to run and play your every game immersively. Once you will have it and run it on your computer then you will see it to be a gamer experience focused on your android. Furthermore, you can use it to boost your computer performance. The developer of this app creates the platform with the shred mindset up so the interface is a bit tricky to track your internal computing system. As a result, the player can seamlessly run any mobile gaming or app functions.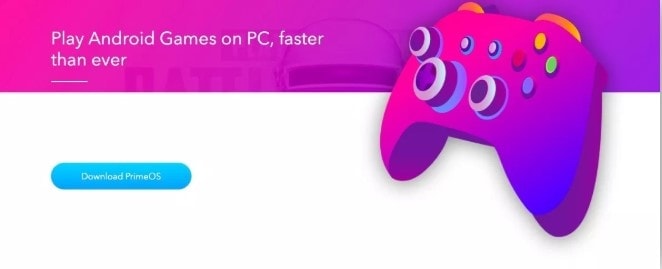 Price: Free
12. Remix OS Player
Remix OS player is the newest version of emulators. It has been released since the Android launched its Marshmallow OS, and now it is rolling on the market. The main attention of it is to have the finest installation which is pretty simple fairly good to go for your new interface.
Normally, when you run the app using its own functionality then the app player itself will download and install the games. And, the alternative choice is with the APK so whenever you are having APK file you can go straight to the system and run the file on it, just need to drag and drop.
Price: Free
13. Xamarin
xamarin is an IDE compared to android studioWhen we have a look at this emulator then we find it to see to have better leverage likewise the Microsoft visual studio. It comes with the built-in emulator for app or game testing as well as android studio. Due to the lack of readily apparent, we only suggest it to the developers. Besides the setup is Very simply too exhausting for regular uses. Compared to Genymotion, Xamarin's doesn't have the same performance. But it will be good to go to fulfill your needs once you fix your mind on using this with your lower performing hardware. Thankfully, it is free for your personal use.
Price: Free
14. YouWave
Since for a long time youwave is one of the oldest emulators. Even so, it was last updated in 2016. It seems likely we can say it fairly current. Free version of this emulator uses an ice cream sandwich, by paying $29.99 you can enjoy the lollipop version. Neither we didn't face any major issues and the process of the installation was simple enough. Though it is not a system of gaming oriented but it plays the games without any hassle. In this way it is preferable for light gaming and productivity. There hasn't been such a meaningful update for a long time. In fact now it's lollipop version is miserably out of date. So We don't give suggestions to use the premium version , but also the free version works fairly especially for those who are in need of an older emulator to run an older android.
Price: Free / $29.99
15. Build your own
As it means so you can now build your own emulator. This is how it works as a great emulator for you. In that case, you need to have or download the readily Virtualbox. Afterward, you just need to download the image from the Android platform that is Android-x86.org. From now it would be just a matter of fact how you will follow the guideline. By the way, following the recommended guideline you will get the job done even if some people find it a difficult method. Thankfully, it is still not such a tough setup while  you are following the rule of thumb like the IDE and Android Studio.
Price: Free (usually)
How to download an android emulator
Want to know how to have an Android emulator for PC free download. Well, this is an easy shot so don't worry about it here we are going to let you know some step to step process into it.
Step 1- First, you need to have the Android SDK file so download it then unzip it to your preferred location.
Step 2- Now you need to have an emulator as you have already done it. Hence, just need to tap across the icon and let the emulator run on your computer.
Step 3- Before downloading any emulator make sure it supports your existing hardware unless it runs slow
Step 4- Free up some space, if your hard disc is running low and then kick start the emulator and enjoy!
Bonus: How To Download And Install Smartcam App For PC (Windows & Mac)
How to install android apps on PC
If you want to install an android apps on PC then you must come to know some of the hacks on it. The main weapon is your emulator and make sure you have it on your computer. We have already mentioned to you how you will have it now let's talk about how to install the apps on your computer.
First of all, you need to have an emulator on your computer
You will find it the emulator from the desktop icon and click there to open
Once it open on the computer screen then you will find a search box at the top corner of it
Meanwhile, you need to ensure that, you have the verified Gmail Id to run the PlayStore
Now at the search box type the name of your apps that you want to run on your computer
Once you search it then it will appear on the Google PlayStore and so click to install and enjoy!
Bonus: Free Download and Install VPN Master For PC (Windows 7/8/10/Mac)
How to run android apps on windows
Most of the emulator works as a windows emulator. And using the emulator for your windows is somewhat more compatible than the android emulator for ios. So don't worry once you want to download it for PC. Make sure, you will be downloading the emulator that will be perfect for your either 64 bit of windows or the 32 bit, unless it won't work out.
Again, if you have the updated windows like 10 then the latest release of your emulator runs better. However, if your hardware performance is poor then there is nothing to do with your downloaded emulator. Therefore, make sure to have an updated or compatible pc for your emulator.
On the other hand, when you have some low performing PC then you need to look for such an emulator that will run on your windows. In our article, we bring up all sorts of emulators that will run in poor computer hardware to high performing computers, so just need to read the above reviews and switch on to the right emulator for PC.
Bonus: Bass Booster for PC Windows 7,8,10 & Mac – Free Download
Conclusion:
So when you want to see your android apps on PC running with great performance then your heart will be filled with joy. The number of Android emulators we have shown you above are great things to have on your computer. But in different hardware it may work in different manner, also it will give you the finest game to run and play on your computer too.