What Does A Sprint Family Locator Do?
Last updated on November 18th, 2022 at 02:49 pm
Sprint Family Locator is a device tracking opportunity because it needs only the device and the Sprint network. Then automatically, it tracks the location and supports people to get a safe zone.
Sprint Family Locator is such an application that can work on computers besides Android and iPhone. Everyone can use it just by using GPS location and sprint network without any complexity.
What Does A Sprint Family Locator Do?
When a device comes to the Sprint network, it starts to find another account for tracking. After creating your account, you can get permission to increase your connectivity, whose connections are required because you will acquire access to track from this account.
You can manage it through a smartphone or computer equipment. Also, you can maintain it by using an application or not installing any apps. Those features make a good impression on the users, especially parents.
When you create an account and proceed for completion, you can add the spontaneous SMS features. This feature starts by showing a notification at a specific location.
Also, if you don't find your loved one's location, you don't need any tension because you can call him.  So, it's helpful for parents because they check their children by noticing their location or sending SMS or calling.

How To Set Up A Sprint Family Locator?
When you think that you will become a user of the Sprint Family Locator, you should follow some easy procedures. This setting up method is given below: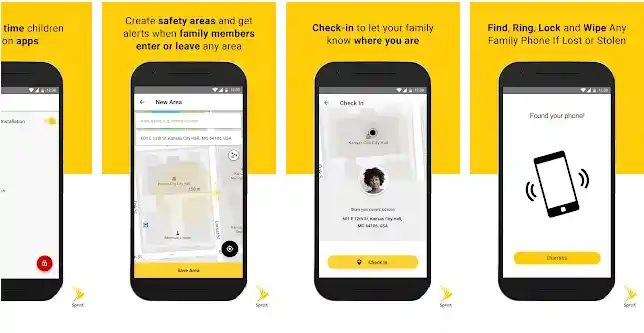 Firstly, you need internet connectivity on your device, open the Google Play store, and find the Family Locator app.
Now download and install the app.
In this step, you open it for registration.
After completing the registration, you can log in to start your journey with the Family Locator app.
You can use it for 15 days for free; then, you should buy its premium version to get the service from the app.
To get a premium version, you can require payment which maybe $5.99 for every month, and after paying this bill, you can use a maximum of 4 devices.
How Does The Sprint Family Locator Work?
When you desire to track a person, you don't take any tension in this time because you don't need to install the Sprint Family Locator app on your device. This tracking option depends on the GPS and it provides necessary data. And this feature makes it unique from other tracking software and people are highly interested to keep it as a useable app. It also helps to improve the battery health and workability of the device.
But you can't imagine that you track your friends and family members without knowing them because they will inform you in the tracking moment.
When you begin to tracking procedure, the tracked person will get an SMS and the phone number holder will understand its workability. This app maintains a security area where a user can save their personal information and other safety privacy from the tracker.
How Much Does A Sprint Family Locator Cost?
When you decide that you want to accept a Sprint Family Locator to track your friends and family person for security, it's a more perfect choice for you. Because,  after installing the app, you will get an option for using 15 days without any cost.
However, when you desire to connect more phones, you require a minimum cost to pay for getting the services. If you pay only $5.99 every month, you can able to attach 5 phones. You can't think it is very tough because you will get the paying procedure through the bill. Also, if you decide to stop the service, you can discontinue the bill.
How Do I Disable The Sprint Family Locator?
As a user, you can disable the Sprint Family Locator by applying many methods. The cancellation method is secure and easy. That's why you can complete it by following these methods. These are described below clearly:
1.Stop The GPS or Location:
A tracker can capable to get another location through GPS, so stopping or turning off the GPS may get more benefits, and it performs well.
2.Uninstall The Updates:
To disable the app, you can use the setting option to stop the update option. To complete this, you can follow these steps:
Menu > Setting > Swipe four times from right to left > All > Sprint Family Locator app > Uninstall Updates > Force Stop.
Final Thought
Nowadays, family persons or friends think about their beloved one's security. But asking and spying with them aren't so good. So, the Sprint Family Locator is a good solution for that issue and people use it widely.
In the above content, a user can acquire knowledgeable information about the Sprint family Locator, and its more perfect and trustable app for security.